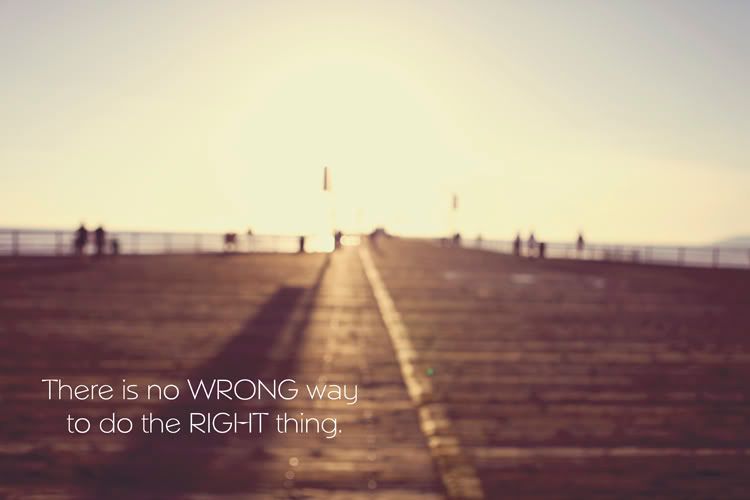 I chose this photo because it's all out of focus but I love it. So I thought it was perfect for this quote. Typically an out of focus picture is the wrong way of taking a photo but in this case it was right.
I had a hard time this morning coming up with a quote for today and so I decided to wait. Wait until something really hit home and meant something to me. Then I had a moment with a friend when she said these very words to me. "There is no wrong way to do the right thing."
These ten words so simple yet so effective. I felt better instantly and when I start to feel upset about a certain situation I think of this quote and it brings me back to where I want to be. I don't want to be jaded or angry.
When you do the right thing for someone else and they do not do the right thing in return it's not your fault and you can't change it. You'd hope that your sacrifice for that person and kindness to them would be appreciated but apparently it doesn't always work out that way. Instead the opposite can happen. You can either be mad or you can move on. I have chosen to move on and while I'm not usually one to let friends go in this case it's the only way I've found to move on and to protect myself. Sometimes you just have to do that. Be loyal to yourself first and everything else will fall into place.
Okay I'll step off my soapbox now. I usually don't use this blog to vent my feelings of frustration or hurt. I've only used it for positive things and things that make me smile. So....on to our regularly scheduled program!! ;-)